THE FOLLOWING IR&WS's HAVE MADE THEIR MARK IN CANADA.

These were the early days. We're proud of them all.




SOME OF THE FIRSTS:

Prior to the Irish Red And White Setter receiving full recognition by the Canadian Kennel Club, and prior to the first CKC show in the year 2000, those few of us in the breed at the time, showed our dogs in the Rare Breeds Club Of Southwestern Ontario, and in CKC Miscellaneous Class.




Proud owner Kim Spelmer with Lainie and her Best In Show Rare Breeds rosette (left). Lainie later became Can. Ch. Shannonlee Snow Dove, CD, FD. and her dam is our Tawny (Shannonlee Snowy Owl).

Lainie is also the first CKC Bitch Champion for the breed (right) and was much loved by owner Kim.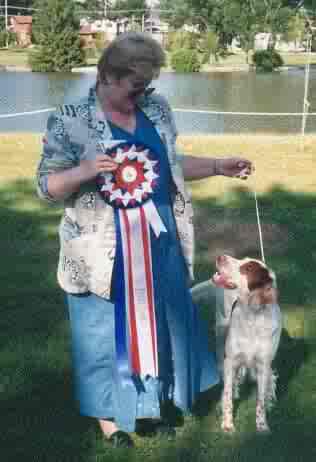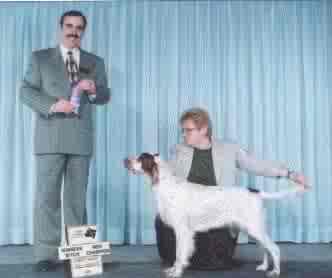 ---
Below is MBISS Can. Ch. Caniscaeli The Full Monty, FDJ, CGN, RN.
Monty is Sired by BISS Can. Ch. Shannonlee Whiskey Jack, CDX FDX, CGN out of Can. Ch. Caniscaeli Tandragee Bramble, CD, FDJ. Lots of titles here. MBISS = MultiBestInSpecialtyShow. Monty was the very first Best Of Breed at the very first CKC show in Jan. 2000. He has been Best Of Breed at the National Specialty four times. Monty is also the FIRST Canadian Champion for the breed. Monty is also the first Group One winner. He is also several times Number 1 IR&WS in Canada, and four times our National Specialty BOB--two of those coming from the Veteran class.
Proud owners are Jake and Jonnelle Flatt, and not forgetting Monty's other "parents" Liz and Dudley Foster.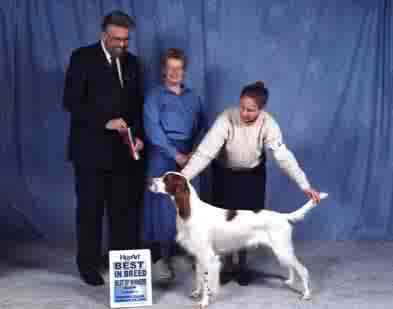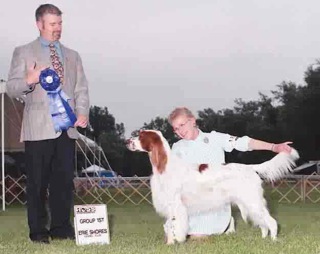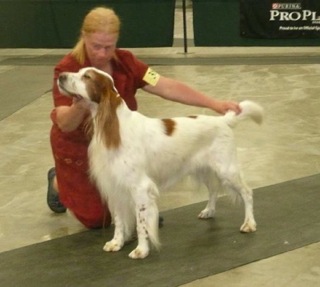 Monty BOB at the 2009 National Specialty.
---
One of the first Ch's for the breed in Canada was Ch. Caniscaeli Tandragee Bramble, CD, FDJ.
Here she is taking a group placement on her way to her Championship. On the right, showing off her beautiful movement to take Winners Bitch and Best Of Opposite Sex at the very first National Specialty in 2000.
Brammie's owner is officially Nancy Bingham. Nancy was kind enough to allow us to share half Brammie's life with us.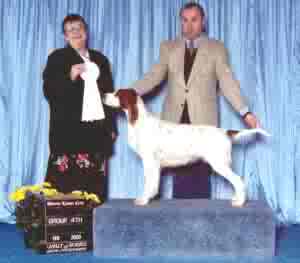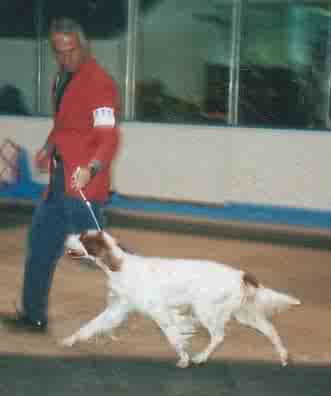 ---
Ch. Caniscaeli Two Is Bran Dil also finished as one of the first IR&WS's. Here is Bran with his owner, Pat Ua Siaghail.
As a point of interest, Bran, who adored dog shows and was certain that the clapping was always for him, was Award Of Merit as a senior Veteran at the 2004 National Specialty, shown by Pat.
On the right is Bran winning one of his Rare Breeds B.I.S., with Chris Cowie. It was never easy to keep up with Bran in the show ring.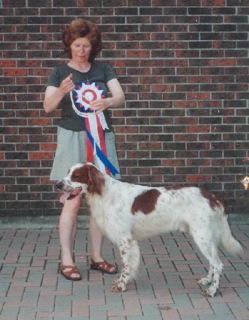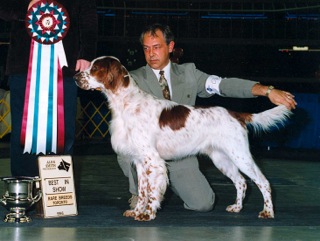 ---
Ch. Caniscaeli Northern Light'N'Jack, Best Of Breed at the very first IR&WSCC Specialty in 2000.
Judge Eve Whitmore, owners Jim and Debra Crowe, handler Susan Allen. Jack was also B.O.B. at Ottawa Valley All Setters Ass'n the first year of the breed's acceptance into full registration in the C.K.C.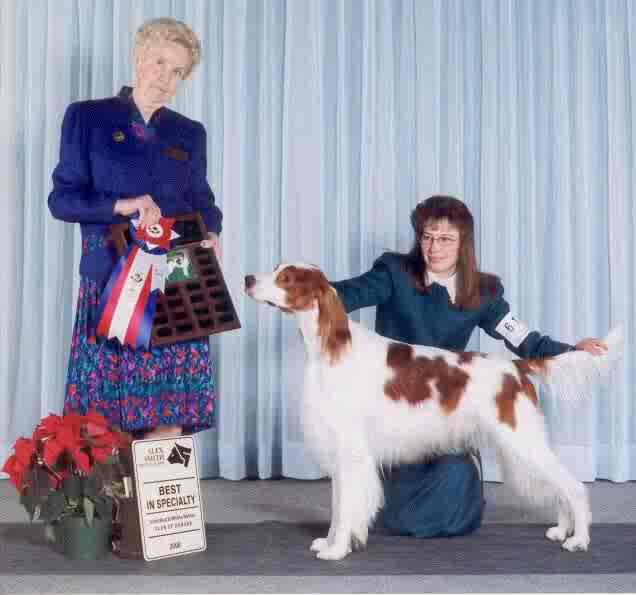 And here is Jack being stacked by owner Deb Crowe.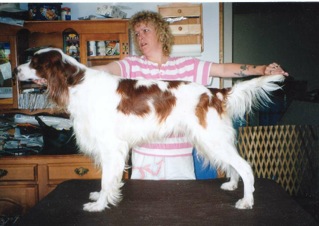 ---
Another who finished in that first year, from the Puppy Classes, was Ch. Caniscaeli One Fine Day. Bevy and proud co-owner Jonnelle Flatt.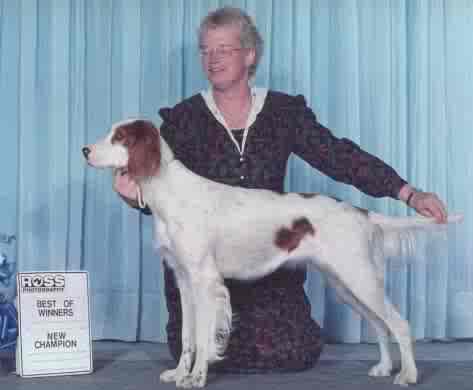 ---
Another early Champion, and a partnership we're particularly proud of because of the magnitude of what they accomplished together, is Ch. Shannonlee Whiskey Jack, CDX, FDX with owner Diane Martineau. Forex is well represented in our Caniscaeli pedigrees. He was born in England, and came to Canada at eight weeks, along with his dam, our own adored Shannonlee Snowy Owl, called Tawny.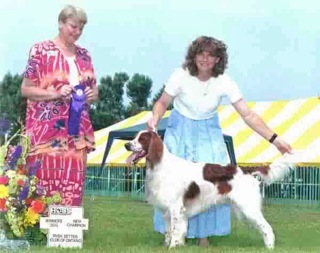 At the head of the lineup is Diane Martineau with Forex (Can. BISS. Ch. Shannonlee Whiskey Jack, CDX, FDX).
It was an emotional day. Best In Specialty Show 2004. Judge Sandy Gunn.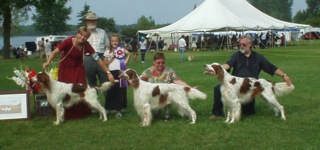 Forex is followed in the Stud Dog class by sons Freckles (new Ch. Caniscaeli Fregner Of Lanham)--owner LaDieu, and Connor (Ch. Caniscaeli Bravo Encore)--owner Harrison.
That same week-end, Freckles came to Canada and finished his Championship in THREE DAYS! Three shows, and he become a Canadian Ch. As far as we know, that remains a record. We're very proud of Freckles, whose other pursuits with owners Mary and Richard over the years have included Freestyle Dancing, Agility, and obedience. Freckles is a U.K.C. Best In Show Ch. He is also the first C.D. for the breed in A.K.C. Freckles is pictured below with owners Mary and Richard LaDieu. Friend Marlene handling.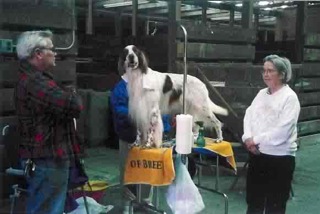 ---
With Kim Spelmer on the left, this is a young Ciaran before he became Can. Ch. Caniscaeli Singing In The Rain, FDJ, JH, Am. and Can. CD, RN, CGN.

With owner Susan Hoppe on the right, a slightly older Ciaran after winning Veterans class at a CKC National Specialty.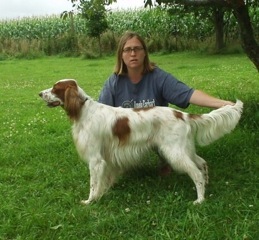 Ciaran's owner, Susan Hoppe, gained several titles in the USA. She also hunted and sledded with him. That's right, Susan does sledding in the winter, with her multi-talented dogs.
Susan and Ciaran attain one of their many titles. Susan's boys Tweed (left) and Ciaran on their way home from a visit to Canada a few years ago.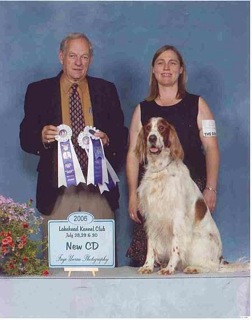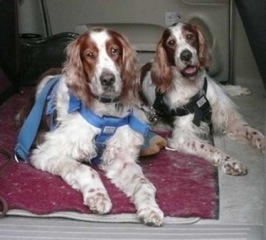 ---
Can. Ch. Caniscaeli Fezzane Dore. Fezanne loved wilderness exploring (left) and she was equally happy with Diane at a dogshow (right). Fezanne is the one next Diane. Forex is on the outside. This was OVASA 2000.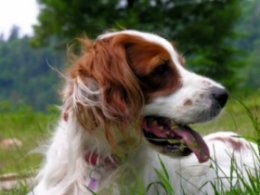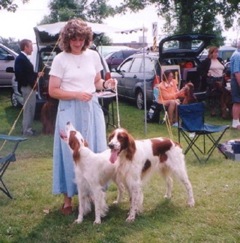 ---
Our friend Sharon Ouimette asked us for an IR&WS to show one year when our Specialty was at SD&G. The All Setter show, OVASA, is also at the venue. So we asked Mike and Kathy Dodrill if their Mikee could come up to Canada.
We were more than pleased when the late, very respected judge, Bob Gilham, chose Mikee for his Best Of Winners and Best Of Opposite Sex, for 5 points, at OVASA, the last show he was able to judge. Mikee finished one week-end later.
Can. Ch. Caniscaeli Faithful Friend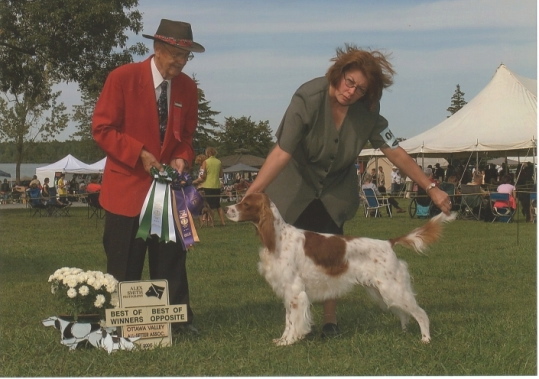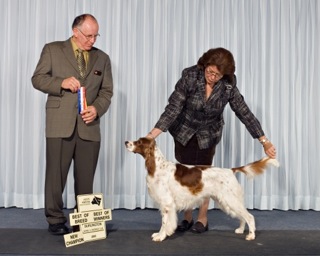 ---
Another dog and owner team we are proud of are Jim Brown and Can. Ch. Caniscaeli Harlan Derry. Derry was Number One IR&WS in 2004. During his show career, Derry garnered many Group placements as well.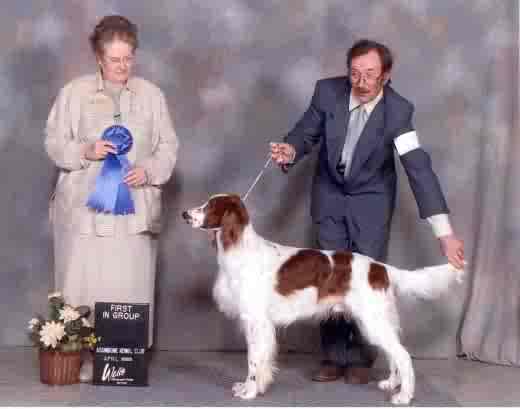 ---
This is Cornelia Tegart with Can. Ch. Harlan's Clancey. Clancey is not bred by us, but he is out of our Caniscaeli lines, and we consider Cornelia and Clancey part of our family. Clancey has also had many Group placements, and has always placed high in the IR&WS stats for breed points in CKC. Considering that Clancey lives in the Yukon, this is no mean feat. We're very proud of them.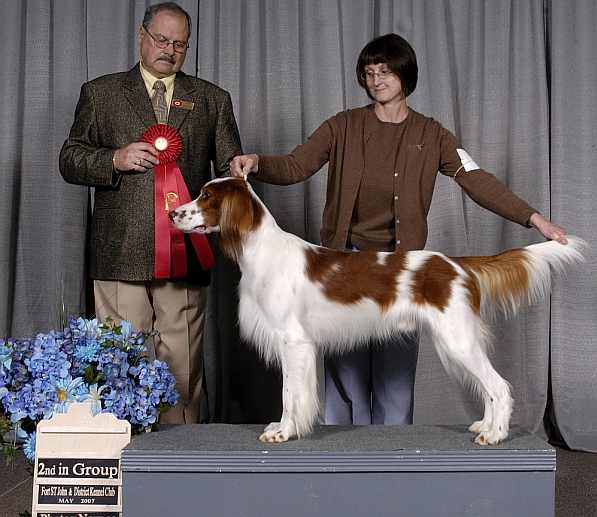 ---
Cornelia and Keith also own Can. Ch. Caniscaeli The Travellin' Man. This is Cornelia with a six months old Tommey, just starting his show career. A couple of years later, Tommey became Canada's first and so far, only Best In Show in Canada. He was also, like his dad Eamon, often placed in Group.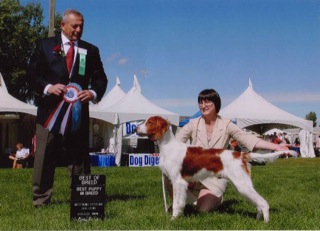 ---
Ch. Caniscaeli Twilight Time at 6 months with Sharon. Twyla is also one of the few IR&WS's to win a Puppy Group in Canada as well. She finished from the puppy classes.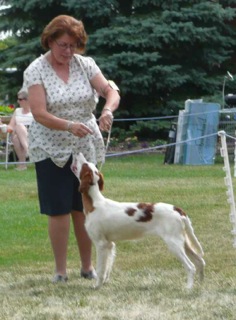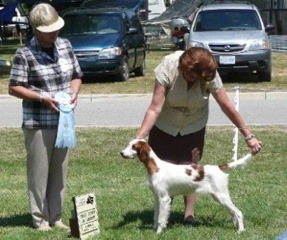 Twyla lives in the USA.
---
Our friends Cindi and Kevin had sent Dan up to Canada for some field training with Mike Wilshire several years ago. Since the Wilshires lived not too far from us at that time, I asked his owners and trainer if we could also show Dan during that month. Mike kindly offered to "hose him down" before the shows, a favour we gratefully accepted. :-) By the end of the month Dan had become Can. Ch. Caniscaeli Daniel O'Connell. I never did get a show photo, but I did take this one of Dan on point over chukar. This was his true calling. He also attained his FD.
---
Ch. Caniscaeli Camelot (Arthur) is pictured at his first match at six months of age, with Leslie. That great photo on the right is an older Arthur at his home, on his daily run with Peter.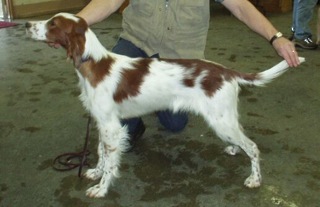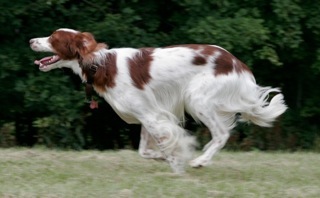 ---
Our friend Kim Spelmer showed Ember to his championship. He is now in Kim's, and our pedigrees.
Ch. Caniscaeli Starfire Ember. The photo on the left is Ember with his owner, the late Richard Girouard.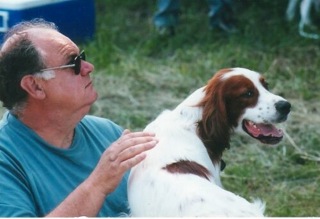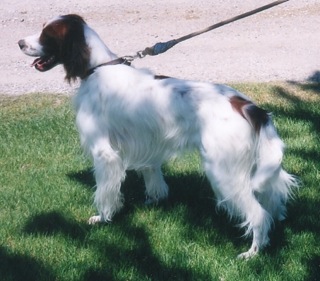 ---
---
Ch. Caniscaeli Cayenne Pepper finishes her Ch. with owner/handler Lise Catt.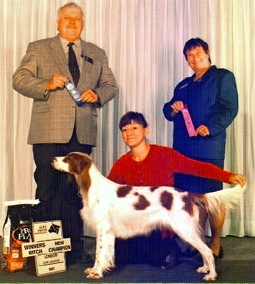 Ch. Caniscaeli Floria Tosca. Tosca lived the life of riley with her collection of toys on her couch. Her owner, Doreen, is a good friend, and when she needed a new dog (and it had to be an IR&WS or no dog at all), Tosca went to live happily ever after with Doreen and family.
Below right is Tosca with Leslie, Pepper with Lise, starting their show careers.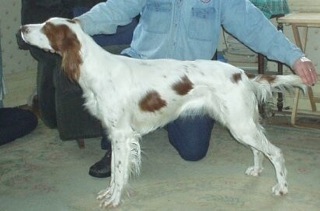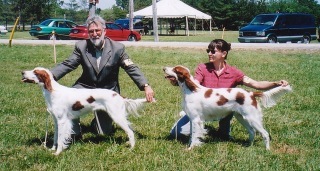 ---
Can. Ch. Caniscaeli Pop Song For Eltin FDJ. Poppy is the first IR&WS to attain two Puppy Groups. She then finished her Can. Ch. very easily.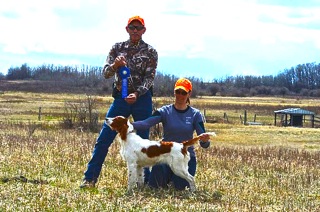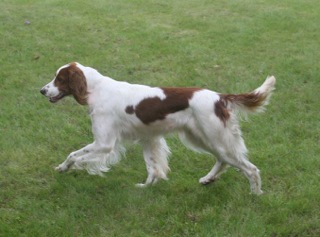 On top of that, Poppy quickly got her FDJ. Poppy now lives happily in the USA. She has fulfilled her early promise.
---