---
For our 2019 litter we have puppies from Am./Can Ch. Aislingcudo Is Seamus Mor bred to our Ch. Caniscaeli Let It Snow.
Seamus X Clodagh puppies were born February 4, 2019.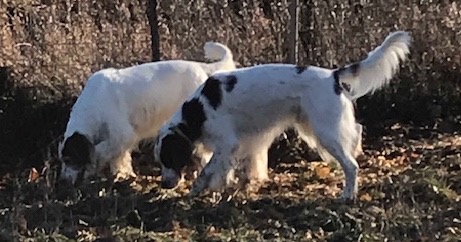 ---
Seamus X Clodagh puppies are here. We have two males and four females.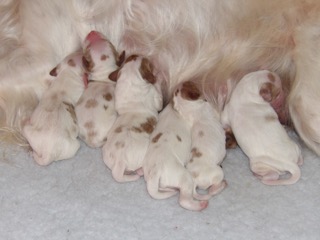 Freshly born, just hours old.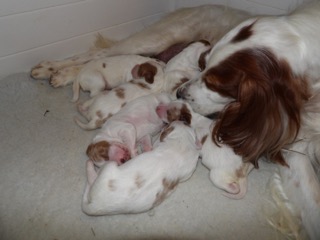 One week old.
---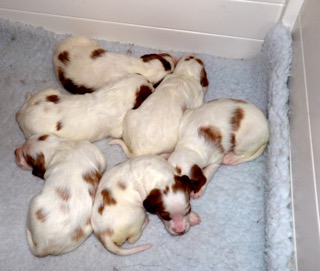 Two weeks old this morning, Feb. 18th. The puppies are getting their voices, shouting "No No". and moving around, just starting to use their legs. Ears and eyes will open soon.
---
Three weeks old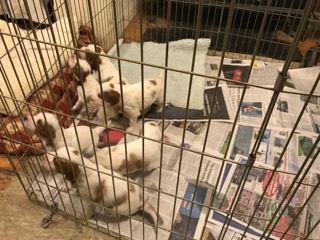 Puppies have their first trip downstairs, their first trip away from their whelping box. They were not impressed until their mother went in and fed them. They haven't met all the dogs yet. Tomorrow probably.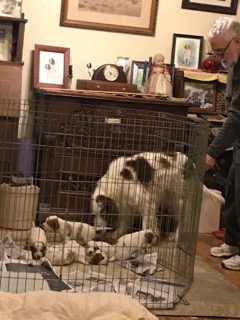 They have met their grandad Eamon, and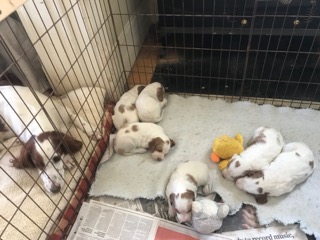 Clodagh was fine with that. Neither Eamon nor Cora appear to be threats as far as Clodagh is concerned.
They are settling in the main living area very well, and Nuala has taken it upon herself to guard them.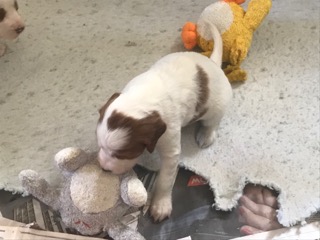 Playing. They are also playing with each other.
---
Four weeks already...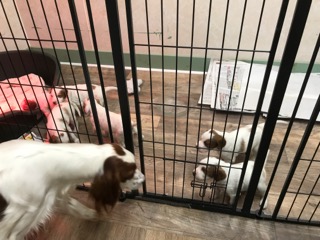 Here they are in the big puppy pen, watched by Nuala.
---
Five Weeks
And now they're becoming much more interesting. Playtime now involves a half hour at bedtime, playing on the puppy room floor.

And they've had two sets of visitors as well.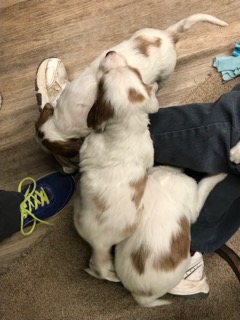 The Boss's legs are a mountain. Two girls consider escaping through the dog door.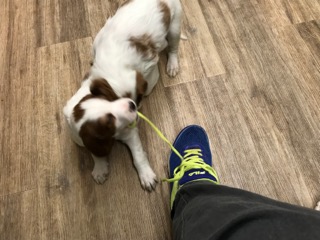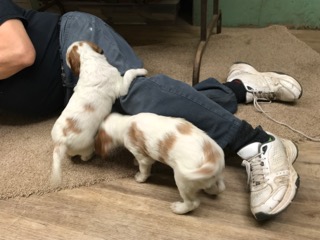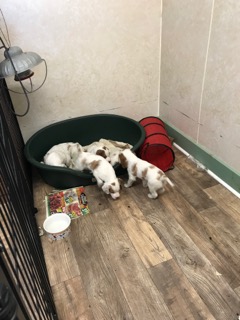 And so to bed.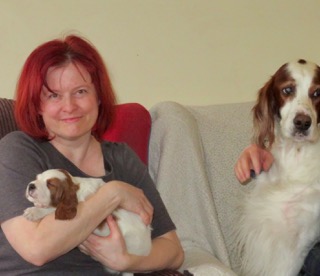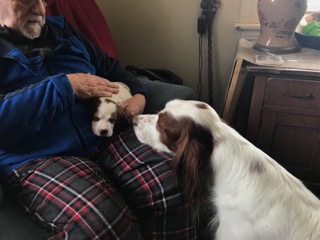 Company! Seamus's owners and breeders.
---
Six Weeks already!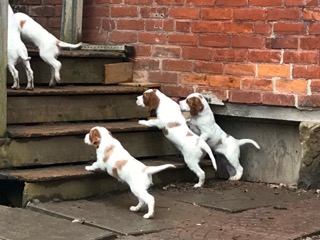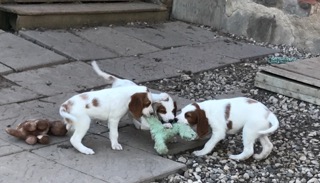 They now climb stairs faster than a speeding bullet, and learned all in a day or two. Also learning to share. Well...maybe...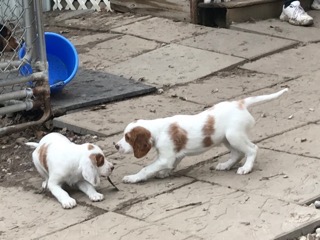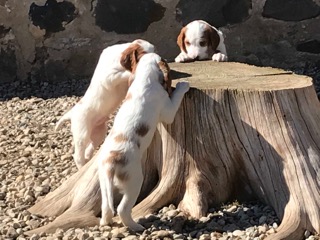 The weather is warmer, the snow is melting, and the puppies love to play outside for a half hour or an hour.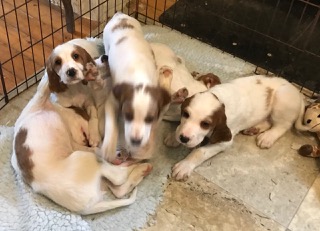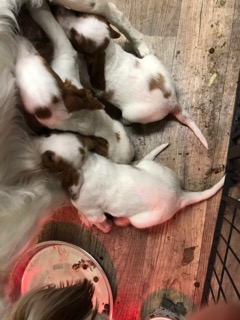 Then a quick nurse, and off to bed. They are eating lots of new things including ground meats, kibble, and goat's milk. But they still love mother's milk best. Clodagh is weaning them though.
---
Seven weeks: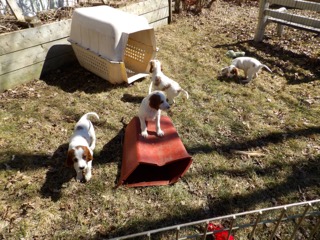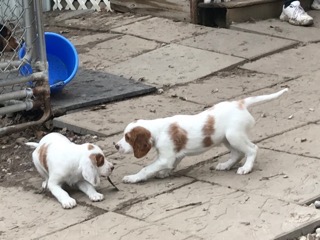 Puppies playing in the back pen on the grass, as well as the kennel yard, which is also fenced. They do love to be outside, and always want more and more freedom.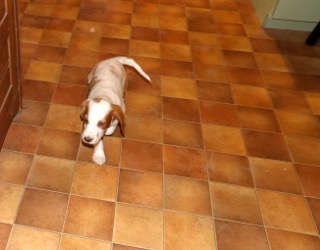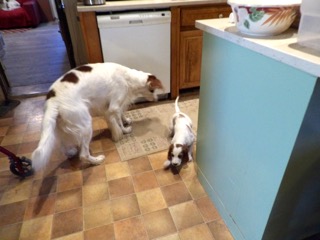 But we don't worry too much if they get loose in the house, as the big dogs are all friendly and love puppies.
---
Here are their eight week stacks, taken two days before their eight week birthday.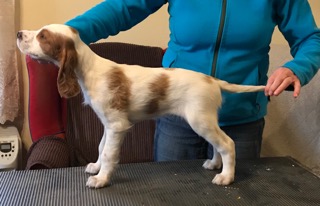 Girl One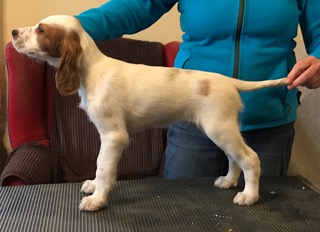 Girl Two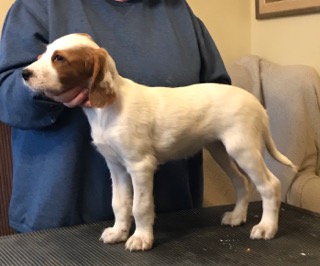 Girl There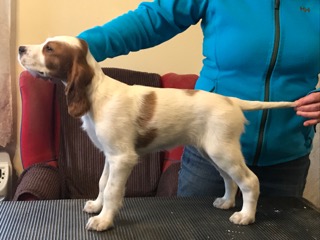 Girl Four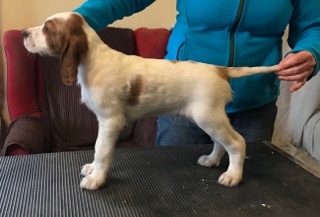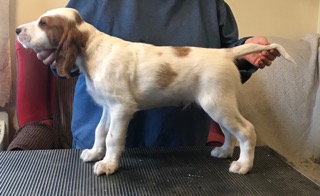 Boy One (left) Boy Two (right).
---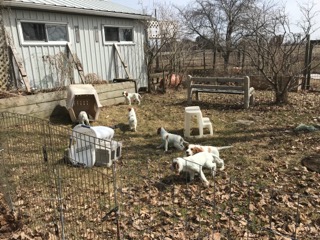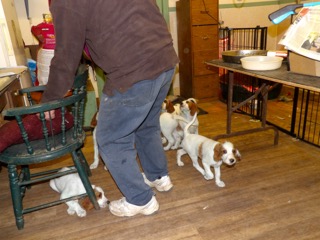 Finally a sunny day with less wind. Puppies love their big outside pen. But they play inside last thing before bed.