Litters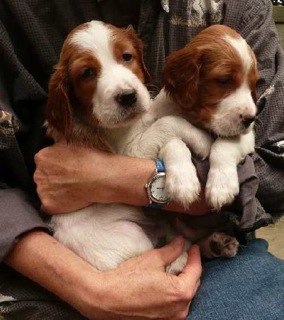 We average one litter per year at Caniscaeli. Puppies are born in our house, and remain in our house and environs, until they leave for their new homes. That way they will be accustomed to normal household sights and sounds, and will have been in close contact with their mother and our other dogs. We also welcome visitors after the puppies are four weeks old. Our caveat is that you must have scrubbed hands and no shoes near puppies. We also ask that you not visit another kennel the same day as you come here.

Puppies will be de-wormed, and will have their first innoculations with vet check at eight weeks old, prior to leaving us. They will also be tattooed for individual identification with our CKC registered tattoo combination, as they will all be registered with the Canadian Kennel Club. Some people also like to microchip their dogs, and that is fine too. But for CKC ID it will usually be an ear tattoo.

The written guarantee can not guarantee the good health of the dog for life. No one can predict for a certainty what lies in store for an animal in its lifetime. Just as you cannot guarantee your child won't get ear infections, crooked teeth, even childhood cancer, neither can breeders assure you your dog won't have grungy ears, or food intolerances or car sickness, or any of a host of other problems. Some things are genetic in origin, others are environment acting on genetics, still others are entirely unknown. At Caniscaeli, we have been conscientious in our breeding practices and in our attempts to minimize the incidence of certain genetic problems by researching bloodlines and testing for specific, known genetic defects.

The relevant tests for IR&WS's are the following: hips/elbows, CLAD (by DNA, or by parentage), vWD (by factor in Canada or the USA, or DNA from the UK), eyes (CERF), and thyroid (complete profile). The latter two checks should be updated periodically throughout the dogs's life.





We have been checking our dogs' hips and elbows since 1992 with our first litter. Most of our earlier dogs were checked at OVC (Canada) which is a closed registry. However, I have all our clearances here for all our dogs, and they all passed. OVC no longer does hip and elbow clearances, so we now put them on OFA, where you can look them up. If you want to see any from OVC from generations back, I can show them to you.

And we started checking eyes the following year. For thirty years now we have been doing eye checks. The problem in this breed is cataracts, which sometimes are seen while dogs are young, and sometimes as they age. We have found cataracts occasionally through the years, and it has always been later in life.

Autoimmune thyroiditis is also in the breed, and we have been checking since 1992. I do not put the clearances on OFA, but I have all results here and new owners of puppies can ask to see them. I will have them in my paper file for each breeding. We do not have a DNA test for AIT so it is a blood test to check for markers that signify a problem. Thyroid is a problem in many if not most breeds, and non purebreds as well. Neither do we have complete understanding of how it is inherited, or even if it's genetics working with environment. So we watch for signs, and we do the testing. If found, the remedy is a simple pill, not hugely expensive, the same as with people. Affected dogs get a pill twice a day.

Canine Leukocyte Disorder was a problem in some lines earlier on. The vast majority of breeders in the 90's and early 2000's checked all our dogs by DNA and as it is a simple recessive, it has essentially been bred out. We, of course, checked all our dogs at the time and we did not have it.

VwD is a bleeding disorder, and again, has been bred out. Anybody who had it at the time, has got rid of it through good breeding. We checked all our dogs by factor (ELISA) for several generations and did not have it. Here is what the Kennel Club has decided: 'The Kennel Club is confident that this condition is not a concern in the breed at this time, and that early selection against the causative mutation was successful."

My other concern for the breed is hemangiosarcoma. We do not know its mode of inheritance, but it is known in many breeds, ours included. Breeders cannot guarantee dogs won't get it, and there is no check for it at this time. So far we have been lucky with our lines. None of the dogs we have bred from here have succumbed to it. In fact, we currently have several older dogs, six of them age ten to fourteen and going strong.

Breeder knowledge about the dogs and extended family in the pedigree is important for management, not only of those things we can test for, but also the much more extensive list of those things that are not part of a testing regime. A pedigree with several generations of long-lived dogs, for example, does not guarantee your puppy will live to a healthy thirteen years or more. But it does give better odds. But a pedigree with no known problems at all is not a pedigree that guarantees no problems in the progeny. What you don't know can hurt you.
Breeders should have valuable information regarding health issues specific to the breed, the temperament and personality of the breed and their own dogs, the direct and indirect ancestors of expected pups. They should also have some knowledge about problems that are common in dog, purebred or not. This knowledge about the dogs in their pedigrees is what helps us prioritize when making breeding decisions.

Part of our breeding planning also involves what is called the "standard" for the breed. The IR&WS was originally developed as a bird finding and pointing breed. That is why our standard calls for a "biddable" temperament. The kind of temperament that requires a dog to form a bond of understanding with its owner, is also the kind of dog that is trainable. With kind and motivational training, you should have an adult dog who is a pleasure to own. Whether you intend hunting with your dog, or dogs showing, or a performance event, or a buddy for yourself and the children, the IR&WS should be suitable. However, bear in mind that your puppy is like a child. He will go through phases of childhood and teen issues that will require patient, understanding and consistent training. He will make mistakes, as we all do. Give him opportunity to learn, starting with the day you take him home.

The standard also calls for certain physical attributes, such as would be important for a birddog. That's angles of the limbs, tailset and carriage, appropriate size, and so on. We also strive for consolidation of these things. However, size and placement of patches, for instance, are not part of the standard. This is serendipitous--one of the fun aspects of breeding.

For an understanding of some of the challenges facing breeders, and what we can and cannot do, please read the following link. It was written by a veterinarian.

Crufts Follow-Up: Vet Checks & Purebred Health - National Animal Interest Alliance

The following is a copy of the standard Caniscaeli contract. It does not and could not cover every conceivable situation. It is, effectively, a contract in good faith between the parties. It shows that we at Caniscaeli are very interested in the dog's well-being throughout its lifetime. If we can help with anything, we will. We also appreciate those people who keep in contact occasionally through the years, so that we know how our puppies are doing. And ultimately, we appreciate knowing what dogs of our breeding died of, and at what age.




The relevant tests for IR&WS's are the following: hips/elbows, CLAD (by DNA, or by parentage), eyes (CERF), and thyroid (complete profile). The latter two checks should be updated periodically throughout the dogs's life. As written above, if vWD was a small problem in the breed, it was bred out many years ago.

We cannot allow intending new owners anywhere near the puppies until they are at least four weeks old. Even then, you will be asked to remove shoes before you come into the house, and wash hands before touching the puppies. Nobody purposely brings germs to new puppies, but it happens. So we do try to take appropriate precautions. Very young puppies do not have well developed immune systems.

Nor can we promise that the puppy that takes your fancy will be the one you take home. You may have a choice of a couple, perhaps. But we, the breeders, will make final decisions based on many criteria, as to which puppy is best suited to which situation. We won't know until puppies are almost ready to go to new homes, which ones will go to show homes. Bear in mind that when we breed a litter, some must be shown and ultimately probably bred from. That is the purpose of breeding in the first place. We breed for the future, whether we keep one to show ourselves, or someone else does. Therefore if someone whose objective is to own the puppy as a pet, and not show or do field or other performance, decides at four weeks when they meet the puppies, that they want a specific one, we cannot guarantee they will have that puppy. However, there will be minimal differences among the puppies. you won't be able to see much difference, as all the puppies are line bred to produce a good deal of consistency.

Once new owners take possession of their new puppies sometime after eight weeks of age, after their first puppy inoculations (which will be administered by our vet before they leave), it's important to bear in mind that they won't yet have had much exposure to the outside world. It's important for their future as confident adults that they be got out regularly. They need to go places and do things. Do not wait until the puppy has had its full set of inoculations and boosters. By all means, be sensible. You don't take young puppies walking on busy city streets or dog parks, where many other animals have been. But you can visit neighbours, and carry the pup where there is more danger of viruses.

The puppies in these photos have met, and been handled by several people they do not know, and been to various new places, all by the time they were ten weeks old. Socialization also needs to continue as they grow.